NEW ADVERTISING OPPORTUNITIES AVALABLE NOW!
WSCA has transitioned to an all digital Spotlight and has added some wonderful new advertising options. The Spotlight now gets emailed to over 3,000 active subscribers and you can reach them all by placing an ad in the email newsletter that is sent out on the 1st of every month and delivers the Spotlight to subscribers. CLICK HERE to view an example of the email newsletter.
Advertising inside the Spotlight is still available and better than ever. All ads are now full-color and are delivered to a large active audience. Reach the people you want to be targeting and advertise with WSCA today!
For more information or to begin advertising, please call 320-485-2535 or email wsca@heraldjournal.com.
For a printable PDF version of the WSCA Advertising Rates CLICK HERE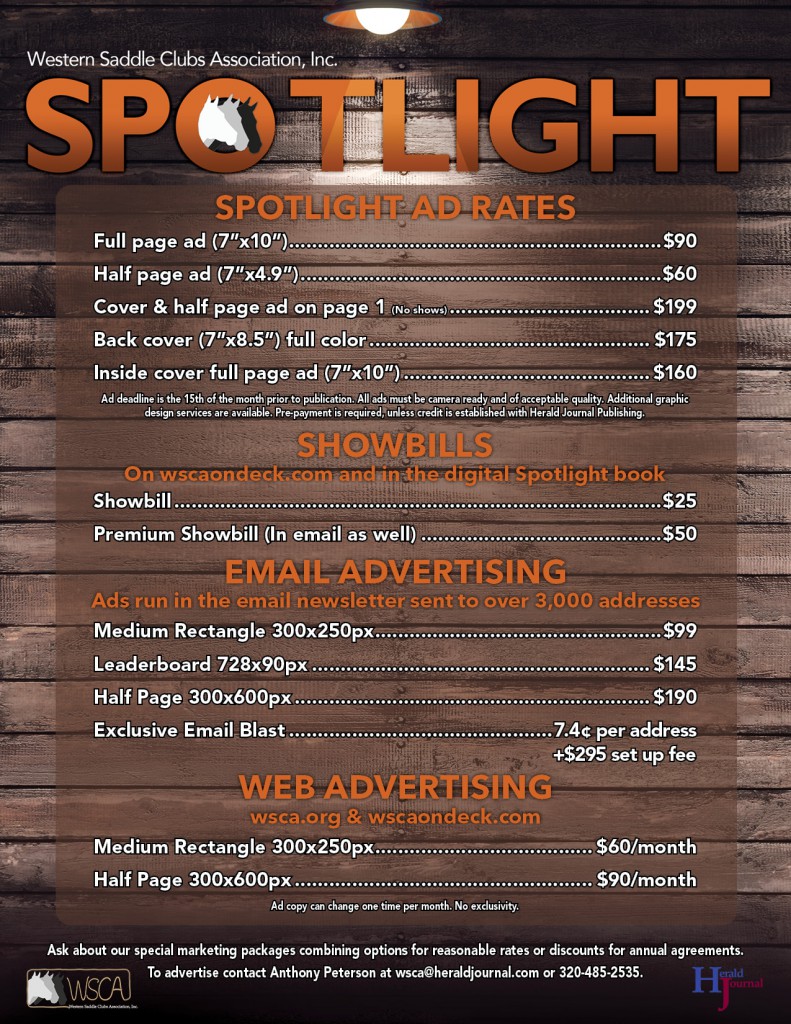 THE BEST WAY TO REACH NEW PEOPLE WITH YOUR SHOWBILL!
WSCA is now offering online showbills for only $25 per show and your showbill will now be placed in two locations for one low price! Your showbill will be on the newly redesigned On Deck website at wscaondeck.com and a full page full color ad in the Spotlight. Don't miss out on reaching a large audience that could become new participants in your upcoming show, contact us today to start advertising your show.