2021-2022 WSCA Queen & Ms. Congeniality Emily Berger
October 2021 Queen's Message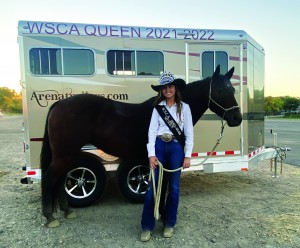 Wow!
This Champ Show was definitely one for the books! It had been a very long two years away from that coliseum, but was most definitely worth the wait. I have been dreaming of this Champ Show since I was five years old.
This Champ Show, I was crowned WSCA Queen and Ms. Congeniality. I am truly honored to represent the association that has helped me grow into the rider and person I am today. Although Champ Show was over in the blink of an eye, I hope most of you were able to show off your 2 year-long hard work and maybe enjoy some lemonade while doing it!
I want to give a HUGE thank you to everyone who supported and encouraged me along the way, none of this would have been possible without you.
Also, another huge thank you to all of you that donated, sponsored, or contributed to this year's royalty contest, it was a tremendous success!
To my court, Ashley, Sara, and Bella… words cannot express how excited I am for this upcoming year and I cannot wait to see what it brings! God bless!
Love,
Emily Berger
2021-2022 WSCA Queen & Ms. Congeniality