WSCA Championship Show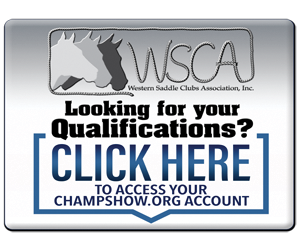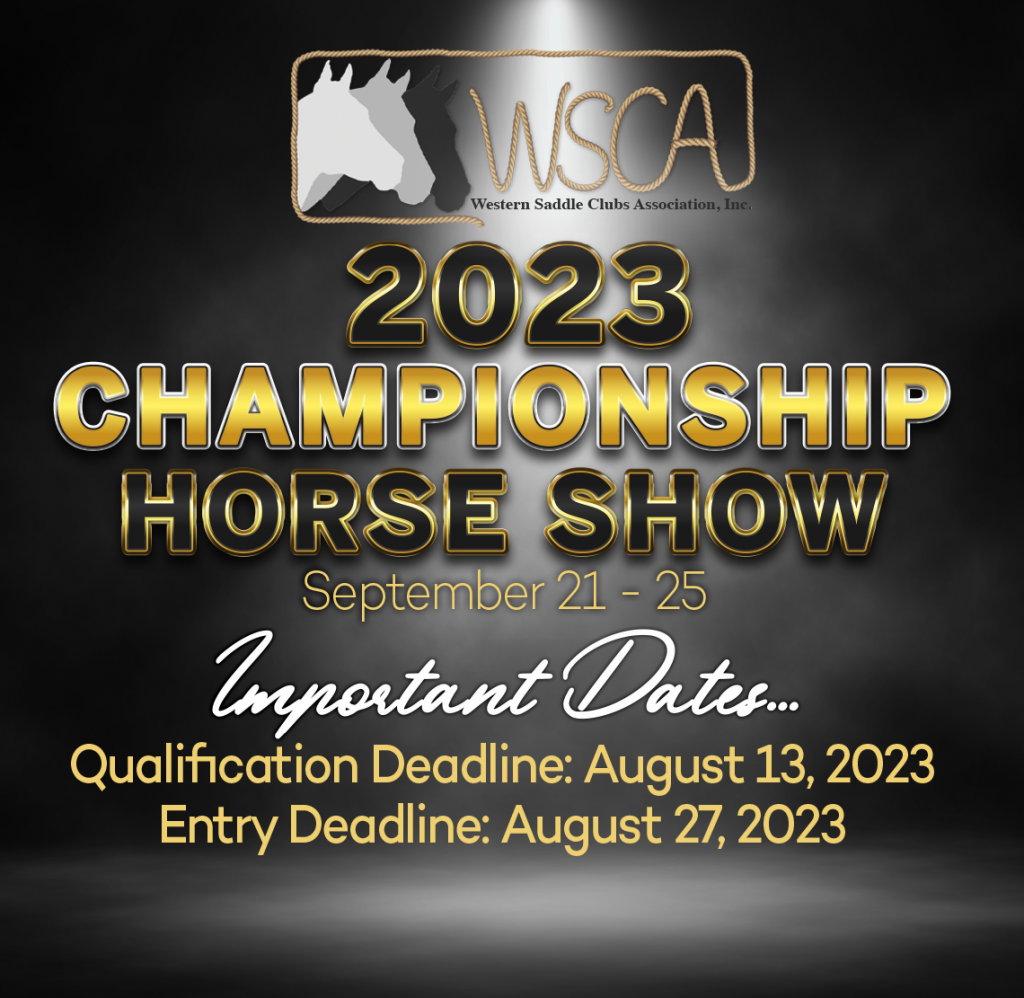 WSCA Championship Show 101
PRIOR TO THE SHOW
Membership
You must be a member of a WSCA member club in order to show at Champ Show.
Saddle clubs must have their membership lists submitted online to WSCA by May 31, 2018.
If you want to become a member of a club, therefore a member of WSCA, after May 31, 2018, there is a late membership process that the club must go through to add a new member. The late membership procedure can be followed until the Champ Show entry deadline.
If you are interested in joining a WSCA member saddle club and are not sure where to look, check out our Club Locator page on the website.
Qualifications
In order to qualify for a class at the WSCA Championship Show, you must place first or second at a saddle club show that is considered a WSCA qualifying show…..that is, has a WSCA approved judge and follows WSCA rules.
The age group of a contestant is determined by what their age is as of January 1st of that year.
Keep track of your own qualifications to include date of show, judge's name, saddle club holding the show, event of the qualification, horse's name and, if a team event, team members' names. You may view the Champ Show Qualifications online, however these are for reference only and not intended for use with completing entries.
More questions/answers on qualifications may be found on the FAQs page.
Entries & Stalling Requests
In May or June, the Champ Show Entry Form and Entry Checksheet will become available to print from the website and will be printed in the WSCA Spotlight. Once they are available, entries may be sent in. Full payment and a copy of the Coggins test results must accompany the entry forms.
Entry fees may be charged to a credit card. See the Credit Card Charge Form for information on this.
The Class Schedule may also be printed from the 'Forms' area on the website.
Electrical Hook-up forms may be sent in if you wish to have electrical for your camping unit. This is given out on a first come-first serve basis. These forms are sent in separately from the Entries and Stalling forms.
A Stalling Form must also accompany the entry forms. An In/Out Permit is also available to those who are coming to show for one day only. The Stalling Information and Instructions may be found on the 'Forms' page on the website.
There is currently a shortage of stalls to accommodate such a large number of horses. Stalls are assigned on a first come, first serve basis. It is highly recommended to get your Champ Show entries submitted as soon as possible so that you receive your requested stalls.
To get more detailed information on stalling, you may refer to the Stalling Instruction form.
What To Bring
Horse(s)
Tack
Hat & Boots, Clothing (Show clothes & Barn Clothes)
If under 18, an adult
Hay/Grain for your horse(s)
Bedding (Shavings are available for purchase at Champ Show)
Buckets and other stall necessities
Your original Coggins and copies of your entry forms
UPON ARRIVAL AT THE SHOW
Check In - BARN
No one will be allowed in the barn or parked near the barn until the designated date and time of arrival. Prior to those check-in times, line up directly behind the horse barn on the pavement (the 'Midway' area) in order of arrival. Queen contestants and show workers will be allowed priority to proceed to the barn to unload.
Before unloading, you will want to go to the barn office to find your stall assignments. The stall assignments for both, the horse barn and cattle barn, will be posted across from the Barn Office in the horse barn. Use these postings to determine where your stall(s) are located.
There will be volunteers helping to give directions. Ask questions if you need help.
Once parked to unload, you may unload your horse(s) and all supplies. Please unload and move your vehicle quickly so that others may get in to unload.
The Barn Office is where you can get any stalling questions answered, stalling problems addressed, keys for the showers (be prepared to leave a license as collateral), direction on where to purchase shavings, check out of your stalls when you are ready to leave, etc.
There is NO REFUND for stalling costs for any reason.
Check In - SHOW OFFICE
The Show Office is located in the southwest corner of the Coliseum. You enter the office from the outside of the Coliseum.
This is where you will pick up your numbers, your show program, copies of patterns and verify your class entries.
The Show Office can help you with any entry issues including adding classes, scratching classes, result information, In/Out Permits, purchase of extra programs, purchase of Spotlights or rulebooks.
During the Show
Announcements will be made periodically in the Barn Office, in the Coliseum tunnel or the Coliseum arena. These announcements can be regarding the pony measuring times, improperly parked vehicles, pages for particular individuals, class updates, whether classes will be split, instructions to exhibitors, etc. It is important to listen to these announcements and stay informed.
Please do not interrupt the people working at the show floor desk including the announcer. It is important for them to concentrate on their work during the show, especially while running the timers during the timed events. If you need to ask a question, go to the Show Office.
Shortly after the end of each class, the class results will be posted in the hallway of the Coliseum behind the Show Office. Please do not remove them from the board. The results will also be available to view in a binder in the Show Office. The Show Office would be happy to make a copy of a particular class results sheet for you.
Please be aware that, during the show, you will be called for a class a maximum of 3 times. After the 3rd call, you will be scratched.
Open riding times in the Coliseum will be printed in the Champ Show program or may be obtained from the Show Office.
Pony measuring is held in the horse barn. The pony measuring times are printed in the Champ Show program and may be obtained from the Barn Office or the Show Office. All ponies must be measured.
WSCA Member Clubs may put up their club banners in the Coliseum on a first-come, first-serve basis. If you wish to post an advertisement banner, contact Steve Tibbetts about the cost and location for posting.
Your show attire is required for re-entry into the Coliseum for event awards. No additional riders may enter the Coliseum for awards unless they are a contestant receiving an award. If you enter the Coliseum with an untacked horse to receive an award, you must LEAD the horse, not ride into the Coliseum.
General Rules
Dogs need to be kept on leashes. No dogs allowed in the Coliseum.
Bikes, scooters, skateboards are not allowed in the barn or Coliseum. When using these outside, slow down around corners and keep close to the curb.
Keep noise down after 11 PM.
DEPARTURE FROM THE SHOW
When you are ready to leave, you must ensure that your stalls are cleaned thoroughly and completely in order to get your stalling deposit check returned to you.  Notify the Barn Office personnel when you are ready to have your stalls inspected.  When they give you the approval of stall cleanliness, you will receive your stall deposit check from them.  If you choose not to clean your stalls or if you do not have them inspected and approved by the Barn Office personnel, you will not have the deposit check returned to you.

Clean up your space around your parking/camping space before departure and deposit all trash in the trash containers provided by the Fairgrounds.
TIPS
Verify, well before May 31, 2018, with your club that you have been listed on the club's membership list that was submitted to WSCA.  Errors frequently occur in which members are inadvertently left off the list.  You MUST be on the list submitted to WSCA in order to show at Champ Show.

Plan ahead and get your entries in early.  This will give you time to reconcile any issues that may arise with your entries or qualifications.  This will also help ensure that you will get the stalls that you are requesting.

Bring a chain and paddle lock for your tack stall to keep it secure.

Remember rain gear…..rain is likely!

Volunteering at Champ Show is always welcomed and very satisfying!  This show is run by volunteers, so we need you!  You may find the

Volunteer Form

on the website if you would like to offer help at the show.

We recommend printing Champ Show 101 to bring along to Champ Show as a reference.

Be safe and have fun!
Please contact Steve Tibbetts if you have any questions, 612-750-0023.